3.2.

pyopus.parallel.mpi

— A virtual machine based on the MPI library¶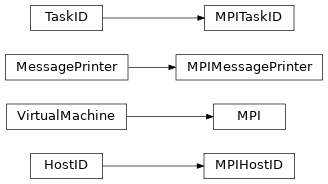 A virtual machine based on MPI and mpi4py (PyOPUS subsystem name: MPI)
Attempts to import mpi4py. If import fails the mpi4py wrapper for the MPI library is not available on the computer and an arror is raised.
class pyopus.parallel.mpi.MPI

(

debug

=

0

,

startupDir

=

None

,

translateStartupDir

=

True

,

mirrorMap

=

None

,

persistentStorage

=

False

)

[source]

¶

A virtual machine class based on the mpi4py wrapper for MPI.

One task (rank 0) is the spawner and does all the spawning. This is the main task that runs the main program. Other tasks (rank>0) are workers. Workers run a spawn loop in which they receive spawn requests from the spawner. A worker can run one spawned task at a time. If the task fails (caught exception), the spawner is notified, upon which the loop expects a new spawn requst. If a task finishes cleanly the spawner is also notified. The point at which the spawner and the workers separate is in the spawnerBarrier() method (this is also the place where the worker's spawn loop is entered. The spawner is the only task that returns from spawnerBarrier(). Workers exit the spawn loop only when they receive an exit request from the spawner (i.e. only when the MPI application is about to terminate).

Assumes homogeneous clusters. This means that LINUX32 and LINUX64 are not homogeneous, as well as LINUX32 and WINDOWS32. Inhomogenous clusters are possible if the undelying MPI library has supports for this feature.

See the VirtualMachine class for more information on the constructor.
A MPI host ID class based on the HostID class.

In the MPI library does not provide host IDs so we use hostnames. Invalid host ID has None for hostname.

The actual hostname can be accessed as the name member.

See the HostID class for more information.

A static member function. Called with MPIHostID.bad(). Returns an invalid host ID.
A MPI task ID class based on the TaskID class.

A task ID is composed of MPI rank and task number which is assigned by the spawner. Valid task IDs have nonnegative rank.

The actual rank and task number can be accessed as rank and number members.

See the TaskID class for more information.

A static member function. Called with MPITaskID.bad(). Returns an invalid task ID.